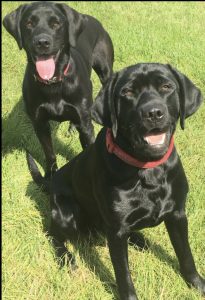 BAILEY, ROSIE & TED
I had just lost my black lab Daisy and knew I needed another dog to keep my ex racing greyhound Poppy company so contacted LRSEC, who found me a lovely yellow boy called Bailey and on 28 July 2012, I collected him. Alas, my greyhound passed the following day after Bailey arrived, which was incredibly distressing to lose 2 dogs in only 2 weeks. I was so lucky to have Bailey to help with the loss and I don't know what I would have done without him.
I intended to get another dog but with plans to move 200 miles to the other end of the country, I always thought I would wait until the move happened before getting Bailey a sister. As I worked from home, Bailey and I were never apart and became inseparable. He was a dog in a million and became a bit of a local celebrity due to his kind nature and wonderful face. I ended up volunteering for LRSEC assessing and rehoming labs and Bailey also helped rehabilitate and keep company for quite a few dogs that I fostered on behalf of LRSEC. Due to his calm demeanour, I am convinced he had a really positive effect in teaching the fosters how to behave before they were eventually rehomed permanently, including a choc lab called Ellie, who became the "worst behaved dog" I had ever encountered up until that point.
Fast forward to June 2018 and after much delay, the move to Devon finally happened. Lots of work needed doing to the house and Bailey was loving being by the sea but in July, I contacted Julie Hammond to ask if there were any young females around that would suit Bailey. Alas, it was a bit quiet on the availability front and we started considering other options and breeds from rescue centres but deep down, I knew it really had to be another Labrador.
In mid August 2018, Julie made me aware of an 11 month working type female who was a bit wild and uncontrollable and had too much energy for the young family she was living with. Having fostered dogs like her before, I half expected what I would get and the problems to be encountered, so thought I would be up for the challenge and we welcomed Rosie into the fold on 23 August 2018.
She was uncontrollable, pulled like a train on the lead, had boundless energy, was very mouthy bordering on bitey, very emotionally needy, demanded attention, very dominant and constantly had a mad glint in her eye wondering what naughtiness she could get up to next. As her recall was poor, I couldn't let her off the lead but knew she needed to get rid of the pent up energy she had from spending long periods crated in her previous home, so there was only one thing for it, walk her until she was exhausted. That first day, I walked her for 14 miles and it made zero difference. The next day, 12 miles, third day 13 miles. Still the same. As soon as I got home, she was ready to go again. So, the following day, we got up early, went to the beach before anyone else got there and let her off the lead. I don't recall ever seeing a dog so happy to be free. She ran and ran and ran, prancing and leaping with pure joy. With the aid of a tennis ball, I was able to recall her and finally after about 90 minutes of running, she calmed down.
She bonded well with Bailey, although instantly became the boss, stole his toys and his beds, sat on his head or him if she wanted him to move etc. It was clear she was a woman's dog and quickly decided she would be Helen, my partners dog but she still had lots of dominance issues and did not like being told what to do by a mere human and remained largely uncontrollable and would delight in stealing or picking anything up she thought she couldn't have, just to make me chase her so she could show more defiance. This resulted in one day, her finding a fishing lure whilst walking down the road (no idea what it was doing there). It had 2 treble hooks in it and she instantly bit into it, screamed in agony, then pawed at her mouth, resulting in the other treble hook piercing her paw and yet more screaming and pulling trying to get her paw away. I managed to pin her down and get the hook out her paw but as she thrashed around, it went into my hand, so I was connected to her jaw via the hook now in my hand. I managed to get the hook out of my hand but could not get her to stay still. I
carried her home and lay her down and that's when I realised the hook had pierced her tongue and her gum. A trip to the vets and a general anaesthetic resolved the issue.
Time went on and Rosie soon equalled the afore mentioned Ellie as being the equal worst behaved dog. Her naughtiness knew no bounds and neither did her energy levels. Luckily, I retired in October and so was able to give Rosie long walks on the beach every morning, running like a lunatic, Bailey faithfully plodding along beside me. At least she wasn't quite so naughty when she was tired. Occasionally, there would be holiday makers on the beach and Rosie quickly learned they keep food in their bags and would often see a bag several hundred yards away and charge off to inspect it, resulting in either people shooing her away (what a great game for her she thinks) or if the bag is unattended, she will help herself to whatever is in there! I quickly learned some distraction techniques for her involving carrying a spare distraction tennis ball and most of the time, that works. Only most of the time though.
In July this year, a lump appeared on Bailey's shoulder which the vets diagnosed as an inoperable sarcoma. Vet reckoned he would last another 6-12 months but just over 2 weeks later, the lump doubled in size over night and split his skin and I knew it was time for him to cross Rainbow Bridge. And so, on 28th July this year, it became just me, Helen and Rosie. Our beloved boy Bailey was gone. Rosie was quiet for a few days and
then started playing up again. She missed Baileys company and was making it apparent. Another call to Julie Hammond and I said its time for a brother for Rosie.
On the 24th August, new boy big head Ted came into our lives. Only a year old, so he was younger than I intended to get but having seen a video of him, he looked like such an idiot, we couldn't refuse. And an idiot he is. The first 2 days with Ted, Rosie was terrified of him (as he is a big complete male) but she quickly realised he is just a big softy and soon took advantage of that and bullies him (although he loves it) just like she did with Bailey.
It's been 6 weeks now of having Rosie and Ted and they absolutely adore each other and much fun is had between them. They love their early morning beach walks, cuddle up together for brief rests in between plotting what they can both get up to next and are generally having a great time. Ted is particularly fond of me and we have bonded really well and Rosie is much more relaxed and friendly now as a result of having him around and is actually starting to show
signs of maturing and calming down a bit (wonder of wonders) and I do think much of that is down to Ted. Ted is fairly calm (for a 12
month old), gentle, kind, loyal and stupid and is the perfect foil for Rosie.p

Our home and our lives feel complete again once more with the addition of these two black lumps of love and joy and we are so grateful to Jacky Garvey and Julie Hammond for helping us get them.
They don't and can't replace Bailey, Poppy, Daisy, Jake or Dizzy (my previous dogs) but they help start a new chapter in the book of life, which I hope they will continue to help us.