We are celebrating our 25th anniversary, quietly due to Covid, but we are all very proud of what the charity has achieved in the past twenty-five years and looking forward to what we will be able to achieve in the next quarter of a century.
The charity is becoming busier again following lock-down when we were essentially closed except  for emergencies.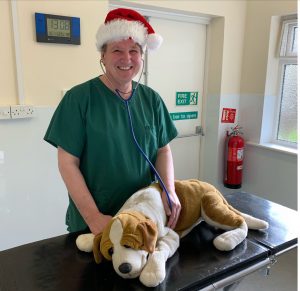 Sadly we are starting to see some lockdown pups coming into rescue, not so far as I know due to owners returning to work but as is the case with so much of our work now, we are seeing pups with long term health problems where the owners are not prepared to return them to the breeder or cannot afford long term treatment. It was inevitable that with demand so high many more Labradors would be bred and less care taken to ensure the pups would be healthy. There is a core of highly professional and ethical breeders but the majority of pups come from family homes, puppy farms or are imported from Eastern Europe. As prices have risen two to three fold in the space of 12months, where there is a considerable profit to be made it will attract unscrupulous dealers.
Christmas will bring an increased demand as well for pups as gifts and I am reminded of the excellent slogan of our friends at the Dogstrust.'A puppy is for life and not just for Christmas'.
I was once a Labrador breeder when our beautiful chocolate bitch Maddie had five pups. It was altogether far too stressful and I speyed her as soon as I could but last week I went to see one of her pups for the final time, after 14 and a half years as a much loved member of a family whose children grew up knowing she would always be there to greet them when they returned from school, who they could play football with in the garden and who they could blame for eating too many treats, a chocolate coloured bundle of irrational love and devotion.
I am of an age where I have seen more than one generation of pups grow up, become irreplaceable members of the family and have eventually given up their place to another.
Many of the clients I visit have as many pictures on their walls of their beloved pets as of their relatives. Christmas can be a troubling time if you have been bereaved and as usual I would ask you all to take the time at Christmas to think of those of your friends and family who you can reach out to and check that they are coping, I have found in my work that the bereavement following the loss of a beloved pet can beevery bit as distressing as losing a friend or relative and a card (an LRSEC card of course) with your good wishes may mean the world to someone or a call or the invite for a dog walk.
Thank you for your continued support, I hope very much that in 2022 we will be able to meet up again more easily for long walks with our friends and those with wet noses.
Richard