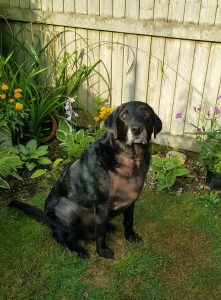 Ziggy Update, January 2019
It's a new year and for Ziggy, that means new fur!  After many long months of visits to the vets, the dermatology specialist and different tests and treatments, Ziggy's skin problems are now stabilised and he is doing really well.
Thorough testing showed that he is severely allergic to 8 different grasses and pollens as well as house dust mite and leaf mould.  Added to the allergies, Ziggy also had numerous bacterial skin infections which were resistant to normal antibiotics and it took several months of treatment to get the infections under control.
Ziggy has had blood tests, skin scrapings, swabs and skin biopsies taken yet at every stage, he has been as sweet and gentle as always, being a Very Good Boy for the vet and letting her do the tests needed.  We have had so many medications and shampoo's, dips for his skin, flea treatments and special food, all to get to the bottom of his problems.
Needless to say, all this veterinary treatment does not come cheap and thankfully LRSE&C have been supporting Ziggy and his skin problems since he was taken on by the charity back in August 2017.  Through the generous donations and fundraising, the charity have covered his costs which have been thousands of pounds and his ongoing medication is around £200 per month.
When the weather is cold, Ziggy is not impressed but wear's his fleece jumpers or coats if it is raining.  As part of his ongoing care, he has a Malaseb bath every other day and as well as towels warmed on the radiator, he has developed a liking for getting a blow dry after.  Ziggy does like to be pampered!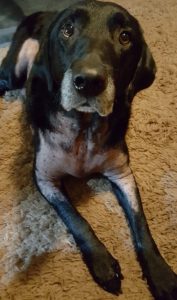 Ziggy's tests have shown that his hair follicles on his flanks are 'dormant' so it's unlikely he will ever have a full coat but he has little tufty growths of new fur coming through in different areas, even in places that didn't have fur when he first arrived.  Our vet is really pleased with his progress and while it is hard work doing his bath every other evening, he loves the fuss and jumps into the bath when I ask and seeing him so happy is all anyone could want.