Upcoming Events
No Upcoming Events
News
---
Christmas
Don't forget to buy your 2018 calendar now on sale in the shop also available are lovely Labrador Christmas cards.
Thanks to Lisa Pearce for organising yet another wonderful calendar competition featuring just some of our amazing rescued Labradors!
---
Walk with friends
Walk with Friends – suggested date 19 November, Bedford area
Every breed of dog is welcome
Walk with Friends have kindly offered to do a pack walk with proceeds going to the rescue. These pack walks are on lead group walks with training advice available as you go if you need it! It's a great opportunity to have a sociable walk amongst like minded people and make friends.
Before going ahead they need to know if there is enough interest and approximate numbers of interested parties, suggested date is 19 November.
This would be a great opportunity to collect your Christmas Calendar and possibly buy some cards and paper.
Walk with Friends choose a different rescue to support each month so we are very grateful to be chosen.
If you think you would like to go along then please email, barbara@loveyourlabrador.co.uk Can we get a good turnout?
---
Give as you live
2017 has arrived and you can help support our charity by registering with Give As You Live. It costs you absolutely nothing but we get money by you shopping at top retailers like Next, House of Fraser and Debenhams etc for your gifts via Give as you Live. Please look here for full details.
Thank you.
Labrador Rescue South East & Central Blog
---
Chairmans Update
Chairmans Update
The deadline has arrived and I am over-run as usual, I'm not complaining I prefer to be busy but I am getting to an age when I prefer to be busy doing things I want to do rather than necessarily all the things that need doing. Number one on my list and number two on Peggy and Meme's is time in the woods, I am sure I have no need to tell you what is number one is on their list. The woods are always beautiful there is a wonderful slow progression from season to season, the bluebells were magnificent and gave way to horse chestnut blossom and then came the willow fluff filling the air as though some giants have been having a pillow fight. I do my best to identify the wild flowers and the butterflies but I want the time and the brain power to be a better naturalist, I shall add this to my list.
The charity has seen much progression as well, the new website under the watchful eye of Joy Carney is generating Google analytics data about page views and visitors, doesn't mean a great deal to me but Joy says it is all very positive. Paul Slade has kindly been looking at our email and with an expert eye has already saved the charity several hundred pounds that can now be spent on Labradors rather than administration.
The recent trustees meeting generated a plethora of ideas and we have moved swiftly to agree a number of suggestions from the co-ordinators. We have also agreed that where there is any concern for the welfare of a dog advertised for sale on an online site such as Gumtree or Preloved the co-ordinators can use their discretion to obtain and rehome these dogs thus ensuring they go to good, loving, forever homes which has always been our strength.
The charity is fortunateto be in a strong position, like the Oaks in the woods we are mature and deeply rooted and although the trustees are aware we need a contingency for high winds we are feeling very positive about the future.
Richard Best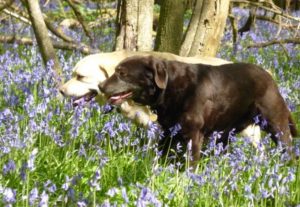 Used Stamps
I have just mailed off a cheque for £15 to John Nutkins, yes I know what you are thinking,"£15 doesn't seem like very much, won't even pay for the first incision of a bitch spey" BUT actually I was rather pleased and I just wanted to thank all the people who collect used stamps on behalf of the charity. They would go in the recycling or worse still into the bin if you didn't carefully tear them off and they have no value individually BUT collectively it starts to add up and when I have a carrier bag full sitting under my desk I take them and enter into a negotiation as to their value always with "remember it is for charity" mentioned as the cheque book comes out. So do please continue collecting used stamps and tuck them under your desk or in an old envelope somewhere and if I may suggest don't send them to me but devise a cunning plan to get them to me. The trustees meet at least twice a year so if you know a trustee then pass them on, or do you know a helper or co-ordinator, find a Facebook friend or maybe have a tame pigeon, this is partly as I enjoy hearing that someone gave these to someone who gave them to me to give to you stories and also because seldom does a packet of stamps generate more income than the postage it costs to send them. I expect many of you will know someone who heads to Crufts or who is involved in showing, I work in the vet's office at Crufts each year and I am often to be found at Yellow Labrador Club shows AND please tuck a note in with your stamps with your name on it so when they do arrive I can make sure I thank you.
Richard
---
Chairmans Update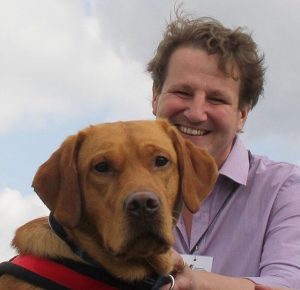 Christmas is well and truly behind us and Happy New Year greetings are diminishing causing me to ponder what the etiquette is regarding New Year greetings. Happy Christmas seems appropriate from the start of advent although perhaps it should be Happy Advent and only Happy Christmas from Christmas Day until Twelfth night? Do I stop wishing Happy New Year after Burns night although then there is Chinese New Year, perhaps the 31st January? Well, as ever I write out of season so as January is still here with me and the forecast is for snow I wish you, your families and your four footed friends a happy and healthy 2017.
Margaret commented that Christmas had been quiet, I suspect she may have unplugged her phone, deservedly, over the festive period, she doesn't subscribe to Twitter so she may not be aware how hard the LRSE&C elf was working having foolishly announced that I would post a new photograph on Twitter each day of Advent, I was already behind by day three, fortunately I was spoilt for choice with the wonderful pictures taken by Peter French of the Dogs party. I enjoyed my foray into Twitterland but the charity would greatly benefit from a twitter-elf to promote the charity, no previous qualifications, just enthusiasm, no set hours, as usual we offer no pay or benefits just a warm sense of well-being.
The Dogs Party was tremendous and as chairman I am keen that it should continue, apart from raising funds it offers an opportunity for the charity to meet, both two and four-legged friends. We are a Labrador charity but so much more, I believe we are a people charity made up of a wonderful diverse group of people all connected by a common bond. The Dogs Party will have a new organising committee for 2017 although with twenty years of experience to back them up. We need new faces and new ideas to join in, no previous qualifications, just enthusiasm, the hours are flexible although the date is soon to be set, as usual we offer no pay or benefits but by the end of the day your face will ache from smiling.
The chairman and trustees are also looking to ease some of the burden of the management of the charity, as you will know if you have previously read the chairman's ramblings I run a pack of cub scouts and never refuse a volunteer. The pack could just about be run by one but it would be exhausting and quickly one person, however dedicated would start to flag, fortunately I am part of a team of five, that way each brings a different set of skills and the total workload is manageable, this week we will be drawing outlines of cubs, the sort that appear on the ground at crime scenes and then filling the outline with colourful organs; lungs, liver, spleen courtesy of some splendid arts and craft card that Debi Gillard passed on to me at the Dogs Party. Actually Debi runs the 100 club, the odds are very good, unlike the lottery, each month 50% is returned as prizes and 50% goes to the charity, wonderful but I digress and I was digressing anyway as this week instead of drawing intestines and studiously avoiding any complicated questions about where the reproductive bits and pieces go on the drawing from the cubs I shall almost certainly still be returning from a family funeral in Southampton and the team at cubs will cope perfectly well. We have a dedicated, efficient and hard-working treasurer who just occasionally would appreciate someone to be able to lend a hand, not necessarily so he can go to funerals, so do you have a little time, hours to suit? Are you any good with figures? Full training provided, no pay, no benefits but there is much to be said for being part of a team.
I hope you are still with me, I am on a roll, I have two administrative projects that have been languishing for lack of time, one would potentially greatly benefit the health of our breed and possibly all breeds, I am looking for a researcher to investigate the opportunities that the charity might have to support research into health and disease in the Labrador. No previous experience just a bit of time and perseverance to look into what is possible, as usual no pay, hours to suit, no benefits but if all goes to plan at the end of the day you may be able to look back and say that you had a small part in something big for the breed.
And finally, I promise, I am looking for a diplomat, someone who is not prepared to take NO as an answer to co-ordinate closer communication between the various Labrador rescues, the breed clubs and the Kennel Club. Ideally someone with an understanding of all three organisations, oblivious to set-backs and tenacious in achieving an ultimate goal of improving the welfare of the breed, I may not have sold this one and as usual there is no pay, no benefits, hours to suit and almost certain abuse but potentially your name could go into the history of the breed.
We have homed a dog from Spain at the request of another charity, we do not currently import dogs for rehoming in the UK but of course we consider any request for help for a dog in the UK. This dog has Leishmaniasis and for those who have not come across this disease before I have written a few notes for you to enjoy later once you have completed your application forms for the situations vacant positions above.
My very best wishes for 2017 to you and your families both two and four legged. Thank you for your continued support.
Richard Best
Chairman
---
A message from our Chairman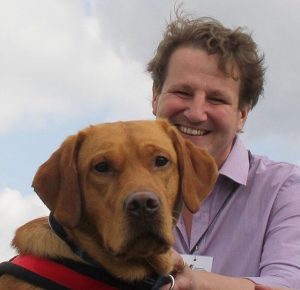 Following much deliberation and lengthy discussion about bits and bytes I am delighted to welcome you to the new LRSE&C website and would encourage you to have a look around. Much is the same but we are brighter and bolder and now available to be accessed by smart phones which I was informed was vital in our modern times. I did question whether a smart phone would instinctively know when it was time for dinner or become ludicrously over-exited when I reach for the leads in the cupboard. I rather suspect if the manufacturers could get the phone to seem so joyously happy to see me whenever I have been away even if just for a few minutes then sales would soar but I do understand that there are things a Smart phone can do that a Labrador can't and to be fair I shall never have to clean up after my smart phone.
Despite the technology, LRSE&C is a "people and pets" charity with a large group of friendly volunteers always trying their hardest to help in whatever way we can to unite dogs in need with loving forever homes. We can always use extra help and you will provide a perfect Christmas present this December if you have time to call one of our co-ordinators and say" I could possibly help", volunteering can be extremely rewarding and I understand good for our health and mental well-being and whether you can offer one lift for a dog to the vets in a year or have ambitions to be the next chairman then do please let us know, if you have any time to give to our wonderful breed then you will be welcome.
The website has taken a great deal of collective effort and I hope very much you will 'interact with it', of course I have no idea what that means but it seemed to be a key point that kept coming up in the discussions. 🙂
Richard Best
Chairman
---
LRSE&C Christmas Cards
LRSE&C 2016 Christmas cards, winners of the competition judged by Louise Mincham. Pack of 12, 3 designs £4.50, £2.50 per order for postage and packaging ( message inside 'Seasons Greeting and Best Wishes for a Happy New Year') if you would like to purchase any please contact . Thanks.