Latest Headlines
If you are an AmazonSmile customer, you can now support Labrador Rescue South East And Central in the Amazon shopping app on your Android device! Simply follow these instructions to turn on AmazonSmile and start generating donations.
If you have the latest version of the Amazon Shopping App, open the App on your Android device.
View Settings and select AmazonSmile.
Follow the in App instructions to complete the process.
This is from Ollie's new owners
Ollie The story so far.
8 or 9 weeks ago We lost our beloved Lab called Ozzie. Feeling that we could not be without one, we contacted Lab Rescue and after a home check, Ollie a yellow Lab came into our lives. He has a few issues with anxiety but his true personality is now beginning to show. He is a lovely warm welcoming dog; a bit vocal when you first meet him, but loves having people around him.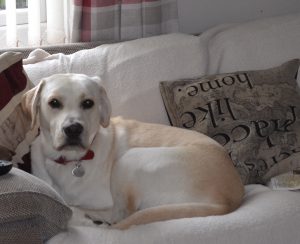 He is a bit naughty at times. He is only 2 as likes to steal things ranging from tissues to chocolate cakes ( the latter resulted to an expensive trip to the vet . He loves playing in the garden with the garden hose when watering, and likes nothing better than a good rough and tumble with me.
Every day he gets better off the lead in the park and his recall is getting better.
He particularly loves coming in my van every day for deliveries and all my customers make a fuss of him.
Thank you Lab Rescue for making our lives happy again!
Mr &. Mrs. Dawson