Upcoming Events
---
Second Wittering Great Get Together and Fun Dog Show
27th June 2020 from 2pm
---
Cruft's 2020
Gun Dog day Friday 6th March
LRSEC have been invited to join the KC breed rescue stand.
News
---
Sale
Christmas Cards now reduced from £6 to £3.50 inc P & P
available now in our online shop
---
Message from Shelia
As the Trustee responsible for our Dog Welfare fund, I want to thank all the lovely people who sponsor and care for our dogs,  as there are many who need continuing treatment.
 At the moment we have in excess of 70 sponsored dogs suffering from a variety of conditions. Dogs with skin problems are very costly to treat as the medication is expensive.  However money alone is not enough. The dedication of their owners is exceptional as these illnesses require regular bathing as well as drug treatments.
Digestive problems can be equally challenging.  These need extra care, time and patience at mealtimes because Labradors, as everyone knows,  are very greedy and want to gulp their food .
We also care for Labradors suffering from heart defects, diabetes, ear problems and the problems associated with ageing.
So as you can see there remains a lot to do.
Thank you again to all our wonderful sponsors for your continuing support, and to the dedicated owners on whom these lovely dogs depend.
If you know of someone who might like to sponsor a Labrador, please ask them to visit    https://www.loveyourlabrador.co.uk/wp-content/uploads/2016/11/Welfare-flyer-Aug14-2.pdf  where they can sign up.
Many Thanks      Sheila
---
Happiness Hacks from Hounds – What Your Dog Can Teach You About Living Your Best Life Yet!'.
Looking for a little stocking filler for Christmas?   Helen Vandenberghe who adopted a lovely Labrador called Meg from us about five years ago, has written a book called "Happiness Hacks from Hounds – What Your Dog Can Teach You About Living Your Best Life Yet! "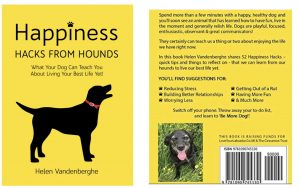 Helen is donating 50% of the proceeds of the book to Labrador Rescue South East & Central and  50% to The Cinnamon Trust

Available to purchase for £7.99 on Amazon & Amazon smile
---
Amazon Smile
If you are an AmazonSmile customer, you can now support Labrador Rescue South East And Central in the Amazon shopping app on your Android device! Simply follow these instructions to turn on AmazonSmile and start generating donations.
If you have the latest version of the Amazon Shopping App, open the App on your Android device.
View Settings and select AmazonSmile.
Follow the in App instructions to complete the process.
---
Ziggy Update, January 2019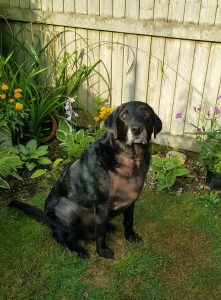 Ziggy Update, January 2019
It's a new year and for Ziggy, that means new fur!  After many long months of visits to the vets, the dermatology specialist and different tests and treatments, Ziggy's skin problems are now stabilised and he is doing really well.
Thorough testing showed that he (more…)
---
Give as you live
2017 has arrived and you can help support our charity by registering with Give As You Live. It costs you absolutely nothing but we get money by you shopping at top retailers like Next, House of Fraser and Debenhams etc for your (more…)
Labrador Rescue South East & Central Blog
---
A Christmas message from our chairman featured in the the Link News Letter
A Christmas message from our Chairman featured in The link Newsletter
Just as the supermarkets start planning early for Christmas so am I with my Christmas diary filling up rapidly. St Peter's the village church children's Christmas party is booked and you will find me trying to organise various children into eating bars of chocolate with a knife and fork whilst blind-folded, the cub scouts' Christmas party is booked where they will each perform a party-piece for an audience of their parents, we shall have some carols played on a variety of instruments, maybe even some carols will be sung and there will be many joke-tellers. I insist on hearing the jokes before letting them loose in front of an audience, I have been caught out before. (more…)
---
Chairman's Letter
Welcome you find me in a reflective mood after a family bereavement puzzling over the nature of love. The scientist within me views love as a combination of chemical reactions; Testosterone and Oestrogen drive the need for reproduction and the "love at first sight" reaction, subsequently dopamine and serotonin provide the warm sense of attraction that fuels the first few months of a relationship and subsequently oxytocin and vasopressin govern the long term attachment of partners and the all important parent-infant bond. As what we think of as 'ourself' is just a mass of synapses, electrical cables with multiple junctions these neurotransmitter chemicals are responsible for all our emotions and in particular the emotion we term love. (more…)