If you are looking to adopt a dog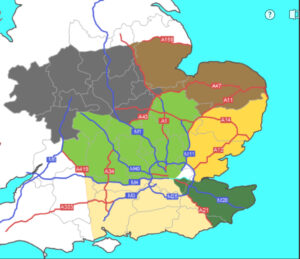 from LRSEC , please note we only re-home dogs within the areas shown on the map. 
Can you Provide a Home to a Labrador in need?  Labrador Rescue South East & Central, unlike some other rescue organisations, does not have a kennel full of homeless dogs.
We work on a system whereby the owner of the dog to be re-homed continues to keep the dog, if circumstances allow, until the right home is found, as this minimises the dog's anxiety.  If this is not possible and a dog needs to be removed immediately, for whatever reason, we will place him or her in a LRSEC approved kennel. We also have several temporary foster homes where we can keep dogs in a home environment until a suitable new home has been found.
Some Of Our Dogs Looking For A New Home
Please click a photo to see more details...
2204 Looking for a Special Home
2214 Looking for a home in Lincolnshire or Norfolk
2249 – Yellow 3 year old Female
2246 Young male dog looking for an experienced home
4.5 yr Old Female Labrador Cross
2244 – Looking for an experienced adult only home
2243 – Young lad looking for an experienced home
2224 – 13 Month Old Yellow Boy