Upcoming Events
No Upcoming Events
News
Streetvet
StreetVet is the brainchild of two vets, Jade Statt and Sam Joseph, who (unbeknownst to each other) started walking the streets of London and offering free veterinary advice to homeless pet owners. Several years later StreetVet is a registered charity offering outreach 'street clinics' in seventeen towns and cities across the UK. Each city runs as a fully-accredited veterinary practice providing free advice, treatment and basic essentials to hundreds of pets. But this is no small feat and it very much relies on professional volunteers, industry support and charitable donations.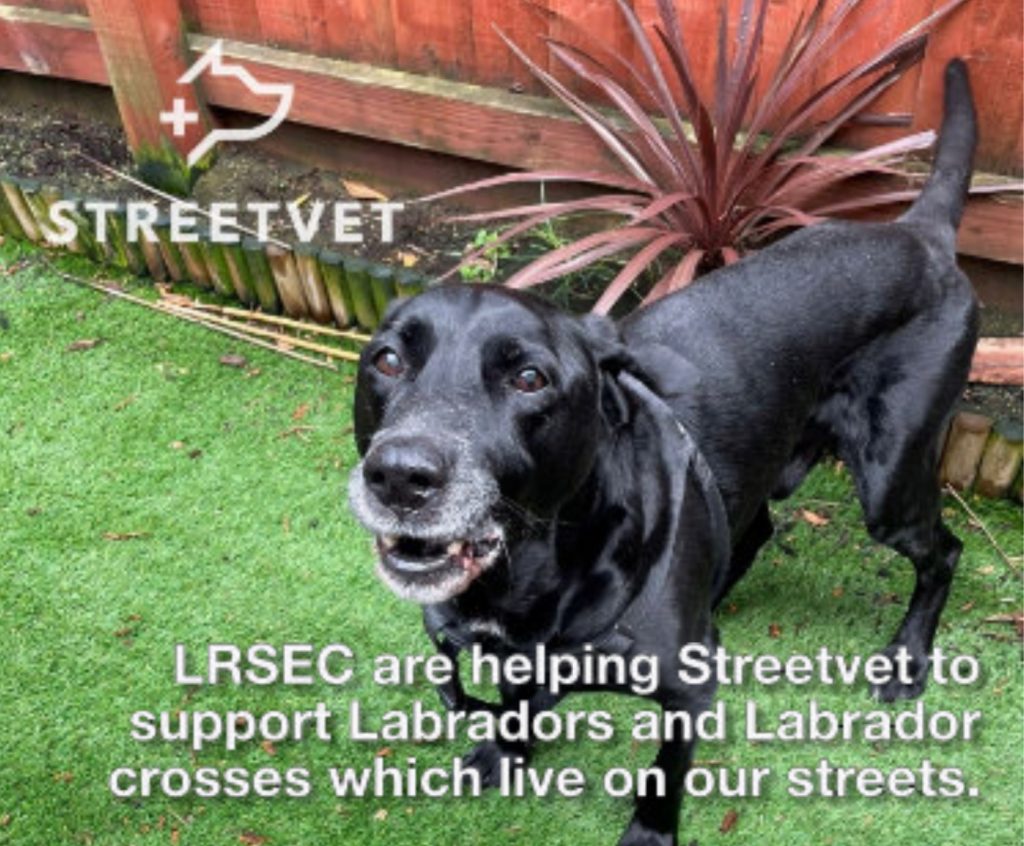 Many of the StreetVet volunteers also work in veterinary practices and going out on the streets with a stethoscope and backpack provides a very stark contrast to their regular work day. As you can imagine, sessions are challenging. Examining excited or nervous dogs on a busy shopping street with traffic, sirens and general pandemonium is not always easy, but the reassurance they provide and the personal connection the volunteers have with the owners and their pets is priceless. Our volunteers pride themselves on gaining the trust of their regular clients, and in doing so, helping to make their lives a bit easier in some small way.
The mainstay of StreetVet's service is to provide preventative healthcare: vaccinations, worming, flea treatments and microchips. However, contrary to popular belief, the majority of their patients are older and many have been with their owners long before they became homeless. Canine arthritis is a huge issue for the older dogs, and can be challenging to manage when the dogs have to travel everywhere with their owners on foot. During colder months, this is a very difficult condition to manage for those that are 'street sleepers'. Symptoms can be subtle such as 'slowing down on walks', refusing to go up or down steps/jump onto seats, mild lameness and toe dragging. Owners often prioritise their dog over all else and as a result it is not uncommon for them to miss important appointments to the detriment of the owner's own personal health and wellbeing.
Thankfully StreetVet are able to help by providing dog buggies and arthritis treatment, such as pain relief, alongside other complementary therapies (acupuncture, massage, laser therapy), all of which hugely improve the dog (and owner's) quality of life.
StreetVet is extremely proud of how their volunteers have managed to continue to provide care to their patients throughout the pandemic. But sadly their service is needed now more than ever. On a more optimistic note, StreetVet's new Accredited Hostel Scheme is being expanded to more areas of the UK, giving hope that some of the pets and their owners will be able to access a safer living environment and this might be the stepping stone towards a happier, more secure future for them and their pet.
Our photo features Bruno who has been supported by LRSEC who provided his new mobility Harness.
This is a truly invaluable service that is preventing many potential cases of loss and heartache in the
homeless community and hope will protect that very special human-animal bond for many years to come.
Marley by Barbara Wilson
I have lost my beautiful Marley' aged nearly 13. The loss of a pet is traumatic and that trauma is sometimes hard for non dog owners to understand. I had Marley from the LRSEC nearly 13 years ago. I am a coordinator for the rescue and I answered an emergency call regarding two five month old puppies. Mum came with me (she was often my 'wing man' on rescue visits). What met us left us both shocked, and desperate to get the pups out and into the safety of the rescue.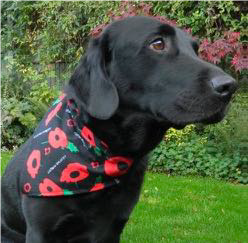 The dogs had never left the tiny crate they were born in. They were knee deep in excrement, food was thrown in through the bars for them to eat from the filthy floor.  They had never had the opportunity to use their limbs outside of the crate so were unable to walk properly, their feet were splayed so they walked on their heels. The smell was awful, they were filthy, covered in urine and faeces. We took the pups straight to a vet. After three washes they still smelled awful. The vet checked them over but he was unsure if there would be lasting damage from their confinement, only time would tell.We took the pups back to my home to decide next step. Both were terrified, having never seen anything but the crate. One pup was less scared and a lovely home was waiting so we decided to allow him to go straight there. The other pup, Marley, was so much worse so I decided to foster him to see what I could do. My existing labs Rosie and Oscar befriended him. Foster lasted about ten minutes before I knew he was going nowhere.  Marley bonded immediately with me, and seemed to get such comfort being near me. So that was that, Marley became 'Marley and me'.Throughout his life Marley was always nervous, that lack of socialisation in those first few months had undoubtedly done lasting damage. He wasn't fazed by emergency vehicles going past, sirens blaring, or fireworks, but if anyone coughed, or took a tissue out of their pocket he would run. That obviously reminded him of something from his past. He was a needy dog, but we needed each other and we had such a bond. During the nearly thirteen years we were together I never left him more than a couple of hours, never went on holiday because I knew he couldn't cope without me. He followed me everywhere, we were a team.My shadow is no longer there, those beautiful brown eyes are no longer gazing into mine. I gave him the very best life I could. His paw prints are firmly etched on my heart along with those of Oscar and Rosie.  If there is a 'Rainbow Bridge' I hope they will all be there when it's my turn, tails wagging furiously and waiting to search my pockets for treats.Run free Marley, you were so loved….
By Barbara Wilson
Help us save them from the hands of criminal gangs!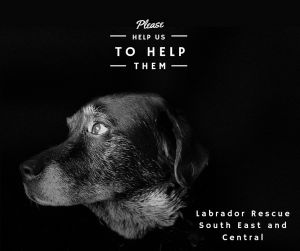 Help us save them from the hands of
criminal gangs
!
Puppy farms and dog theft are frequently reported and sadly continue to grow at an alarming rate. We at Labrador Rescue South East and Central are anxious to alert people to the dangers of advertising, rehoming or even selling your dog over the internet.  Professional criminals, previously involved in serious crime such as drug trafficking, have turned their hand to dog trading; and they are at
(more…)
Labrador Rescue South East

&

Central Blog
Max & Duke
Max & Duke
Update from Louise their new owner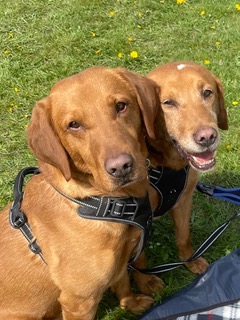 The first of February 2022 was a particularly special day for us as we were blessed with these two beautiful boys, Max & Duke.
We had seen them on the website for Labrador Rescue SE&C & fell in love
immediately but we didn't think we had a chance as they were out of our area but we both just kept looking.
Their eyes just were telling us they had so much love to give & they have done just that since being with us, as I am sure they have done in their previous home.
We then decided we should contact to see if there was any chance we could try & adopt. Everyone we have spoken to have been amazing & helped us give Max & Duke their forever home & we can't thank them enough.
Our first contact was Jane who was amazing & put everything in place for a home check with Jackie & then our meet up with the boys with Dawn, which was pretty emotional, seeing them & being able to bring them home.
They have from day 1 brought us, & will continue to bring us, so much joy. They are 2 amazing boys, full of love & mischief, obviously!
Please don't be put off by a dog who has been living in a kennel previously, as they have both adapted well to being in a home environment. We have had no accidents at all, apart from one cocked leg on the first night by our elderly boy Max, which, to be honest, is nothing to even mention in the case of a working dog who has not lived in a house for any of his 11 years!
We can't thank everyone enough for helping us to have these boys as a part of our family as they are so very special & loved so very much. Thank you!
"They have brought us so much joy"
Bonnie
A short story from our Link Magazine.
Bonnie By Elaine Tolliday
As a health care professional, I have becoming increasingly interested in equine and canine trauma support. When I had the good fortune to adopt Bonnie ; a 9 year old black lab, I realised early on that she had something special.
She is gentle and patient, and has this amazing ability to help humans feel calm. I started to take her to work, and watched her sit quietly next to colleagues whilst they talked. She seemed to love the fuss, and never tired of seeing people. I therefore decided to apply to Pets as Therapy. After an application to make sure all was in order for me (references, DBS etc) Bonnie had her assessment.
Our assessor marked her on how
she interacted with people and other dogs, how she walked on and off a lead, how she responded to being stroked, poked and groomed. Treats were offered, and expected to be taken gently ( the biggest challenge for a lab), she had to walk past noise, banging bin lids and wait patiently whilst I chatted. She passed with flying colours!
After uploading all her vaccinations and completing all the paperwork we excitedly awaited our approval. So far, she has been to a few support sessions I have run with healthcare colleagues, and visited the young people at SENSE, an education environment for young adults with multi sensory disorders, and complex needs. There was much excitement, and lots of smiles as she sat quietly next to the young people in wheelchairs, and laid on the floor with a young man. She coped brilliantly with being stroked, and the noise of the young people. The nurses and Doctors love seeing her. They talk about the stresses of work and feel calm and relaxed when with her. One of the team, said "she has a calmness about her which radiates to all of us".
She certainly has a special quality and a gift.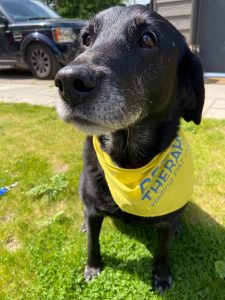 RUSTY Best Friend to Harvey and Beloved Member of the Sibley Family
We love to hear the stories of the wonderful dogs we rehome. Here is Rusty's story, which the Sibley family have kindly given us permission to share.…….

We adopted Rusty from LRSEC when he was 8 months old as a companion for our other Lab Harvey, and in no time at all the pair were inseparable. Rusty was described as one of the most destructive dogs LRSEC had ever rescued having nearly demolished his previous owner's home. Despite knowing this, having met him we guessed that this was probably down to boredom and a lack of exercise. He soon settled into life with us, loving his long runs in the woods and parklands with his best friend Harvey, and cuddles on the sofa in the evening. He was cheeky, loving and the most ingenious food thief that we've ever met, but we loved him unconditionally and that love was returned tenfold and more.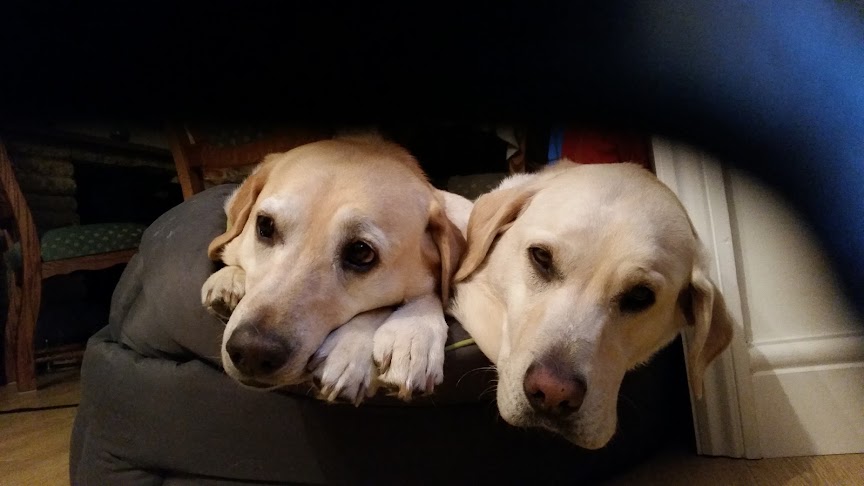 Sadly, we lost Harvey shortly before lockdown and there's no doubt that Rusty missed him terribly. However, lockdown meant that the whole family were there 24/7 to make sure that Rusty was never alone and fussed unmercifully. Towards the end arthritis in his hips started to slow him up but with a good combination of meds he still enjoyed his walks, in comfort, albeit at a more sedate pace. He was two months shy of his 13th birthday when a routine blood test revealed he had inoperable Cancer, and on 10th December 2021 we had no option but to say goodbye. Heartbroken doesn't do justice to how we felt and still do, but the purpose of our message is to thank LRSEC for giving us the chance to adopt one of the most remarkable Dogs we have ever known. Not only did he get a loving Forever Home but he changed and enriched all our lives in so many positive ways. The Sibley Family
Everyone at LRSEC understands that pain and sends our sincere condolences to the Sibleys and anyone else suffering the same. Sadly it's the price we have to pay for all the love and happiness dogs bring to our lives, which is why we carry on finding forever loving homes for all the wonderful dogs that come into our care; to share the good times over and over again.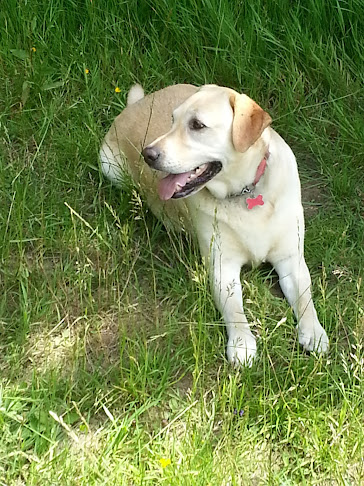 Crufts 2022
CRUFTS by Jennifer Edington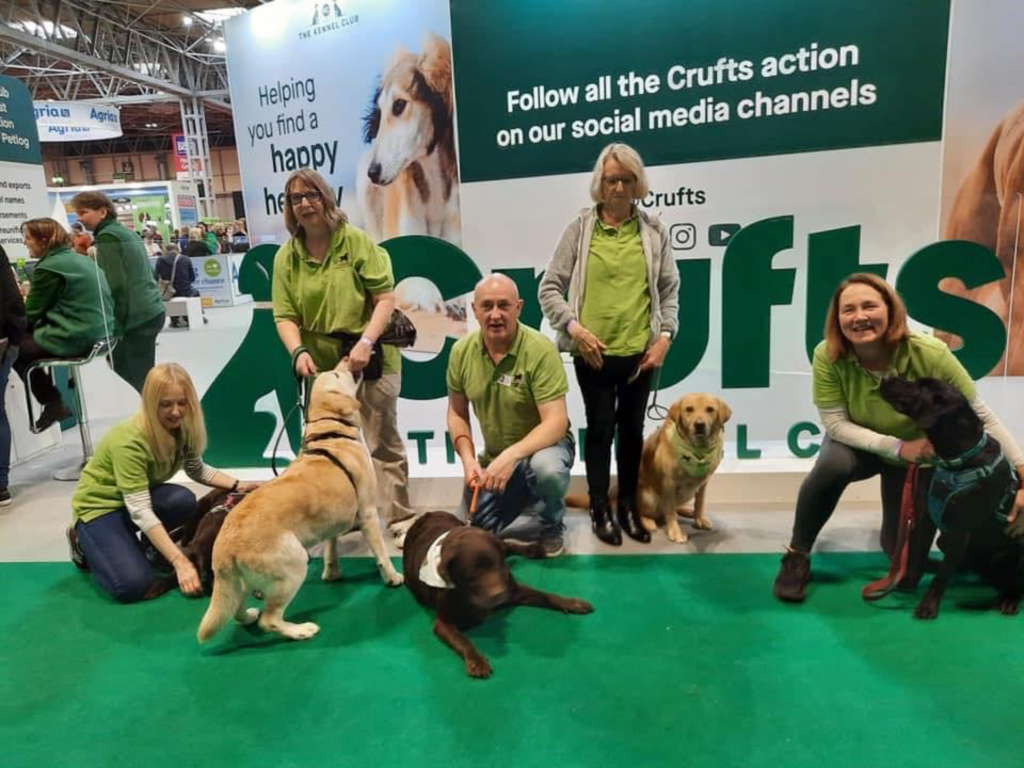 Sunday March 13th started off a bit of a wet one, but by the time we had been whisked up the M40 to the NEC (thanks Ian, who refused petrol money, so we put it in the LRSEC Fund), the sun was shining and we entered the Crufts halls along with multiple breeds and their owners for Gun Dog day.
Carmel had coordinated the day, so Ian plus Byron ChoP, Jackie plus Woody and Jenny set up the stand to promote the charity and highlight what a super breed the Labrador Retriever is.
Vanessa and cuddly Benson joined us, as did Sam, and Mr. Steve, with the lovely Gizzy in his chariot, and Carmel and waggy Bella. We had a great day chatting to people who clearly love labradors as much as us. There was lots of interest in why on earth labradors would need rehoming. Of course there can be many reasons: family dynamics changing, other new arrivals, people'swork circumstances changing as well as people not realising what they have taken on when they choose their snuggly pup. It is very rarely the dog's fault that they seek a forever home.
All the dogs received lots of fuss and cuddles from new friends. Many had tales to tell of their own beloved pets.
We celebrated Mr. Byron ChoP's tenth birthday with Sardine and Tuna cake, made by Jackie, shared amongst the four pawed party goers. Our Chairman, Richard Best turned up in time for the human cake, taking a breather from his role as duty vet.
We heard from a gentleman who was delighted to have rehomed a dog early in lockdown summer of 2020. He told us that the dog was now happily settled and many of his previous ailments are now resolved. His profession as a vet may have had some bearing on this. He said he is eternally grateful to have welcomed him into their home.
We took turns to fetch refreshments and fit in a bit of shopping before heading home with some very tired Labradors.
Beatrix
This story began at the beginning of July. On one of our caravanning weekends my family met a lovely couple and their two gorgeous Labradors.
Their boys came over to greet our yellow Labrador Ollie and a conversation about what a fabulous breed the Labrador retriever was.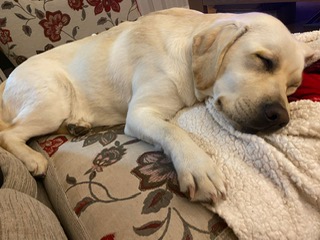 The lady introduced herself as Jane, her husband Robert, and her dogs Charlie and Jack . Jane spoke about her boys being rescue dogs and told me all about their youngest dog Jack's tough start.
I told Jane that we had been looking to get a playmate for Ollie just as the first Covid lockdown struck but that there was no way we could justify the inflated breeders' prices.
We just wanted another dog to share our lives with. We had totally lost hope that we would ever be able to have another Labrador. Jane told us how she worked for Labrador Rescue South East & Central and that they had Labrador dogs of all ages that came to them to be rehomed. Suddenly I began to feel bubbles of excitement; was there a possibility that we too could rehome a lovely lab ?
I completed the online form straight away and eagerly waited to hear back. The next week we had a home check and we were approved for rehoming!
Jane contacted me to let me know of 2 gorgeous girls (sisters) aged 13 months that were in need of a new homes . We were very fortunate that we got to meet both girls and take our boy Ollie along to meet them too. It was so difficult for us to try and choose between the 2 girls!! We put our trust in Jane and asked her to decide which she thought would be the best fit for our family as we would have been equally blessed to have had either of them.
We cannot believe how lucky we have been to find her . Training with Bea is going well we are currently working on her recall off lead , but she's never far from my side whether at home or on our walks. Thank you Jane and Labrador Rescue South East & Central for bringing Beatrix into our lives .
Within a couple of days Jane had got back to us with the exciting news of which dog would be coming to live with us . Our beautiful girl Beatrix joined our family in August. We are so fortunate to have her in our lives , although a little shy at first; with Ollie to show her the way she has become such a confident little character who loves her daily walks on the beach, in the park or paddling in the local dog swimming pool.
The Rea family x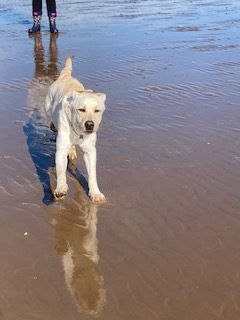 Willow – Swimming along nicely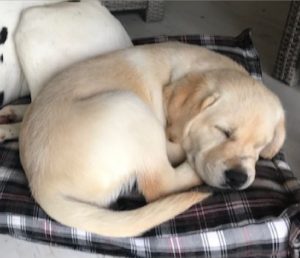 Willow came into our family just after we'd lost our very special diabetic black Labrador Chester, in April at the age of 13 and a half.
Our local coordinator Jane told me about a 9 week old Yellow Labrador rescue who was born a swimmer!! Which meant she was wobbly on all 4 legs!
Jane showed me a picture of this adorable yellow pup, typical Labrador, sad eyes and I just fell for her even naming her before I met her.
We were worried about how our 6 year old Dalmatian Spring would be with her as she is not very sociable but, within 5 mins they were playing! Willow is such a confident pup. Spring will still put her in her place when necessary but I think she has quite liked taking on this role. Willow follows her everywhere.
She is adored by all the family as well as by our friends. A typical Labrador, she gets into mischief and then looks so loving giving you those puppy dog eyes.
We have done puppy training and she has also been swimming in a hydro pool!
She loves it all and takes everything in her stride. I own horses so the dogs come up with me to see them. Willow touches noses with them and likes helping with the mucking out! Yuk!!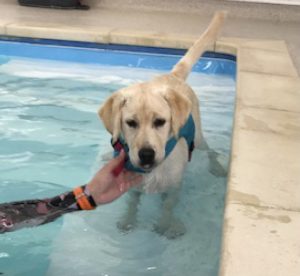 I'm sure Chester is still looking over us with Willow as she has so many of his traits.
We are soon starting Intermediate training which I'm looking forward to just to carry it all on with her.
The social side of training is so good for her. We may then have a go at agility.
There is certainly nothing wrong with Willow now she has nice strong legs we love her to bits…
She has settled so well onto our family.
Steve & Jodi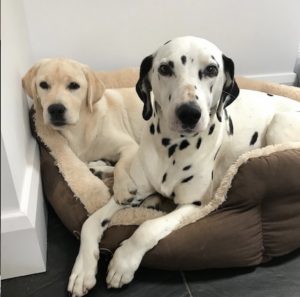 Sebastian
Hi, my name is Barry and I would like to tell you about Sebastian who I have recently re-homed from LRSEC.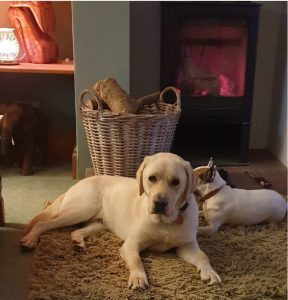 After losing my Labrador Rolo who I had for 10 years and who was also adopted from LRSEC through Janet Andrews, I contacted my new area coordinator Jane Hunt who I spoke to on the phone and completed an online form.
A few days later Jane phoned with the good news that there was a dog available. I had put on the form that I didn't mind a dog that needed training, patience and understanding as my previous friend Rolo needed the same.
Jane was particularly anxious about Sebastian as he was 18 months old and had only known a life in kennels and he was totally confused and troubled as to why he was there.
Jane sent us a picture and my wife and I together with our Jack Russell went to meet him at the temporary kennels. The kennel maid brought him out to meet us in the paddock, he was a big bundle of yellow dog pulling on the lead really excited to be in the open.
He was a bit shy and nervous but I could see by the way he was with our Jack Russell who is called Russell that he had a lovely temperament. After walking round the paddock with Sebastian and Russell we adopted him and took him home.
Jane had already done the home check although nothing had changed since we had adopted Rolo.

Once home it was a learning curve for us and him, For us he still had reservations on trust so would lie on the patio outside with the doors open and would occasionally pop his head into the lounge, this quickly progressed to laying in the Kitchen looking into the lounge followed by eventually trusting us enough to lay in the lounge but seemingly with one eye open as if we moved, he did too, to the safety of the garden.
Thankfully this was in the summer. We bought him lots of toys to play with to stop the boredom that he felt while in the kennels. While in the kennels he used to trash his water bowl, he also did this at home but with the help of the toys, Russell as a partner in crime and the stimulation from us this soon stopped.
We had to set some rules of our own and one of those was he had to sit and wait before being allowed to eat his food and as Labs are food orientated this was an easy goal to reach. If the downstairs toilet door is left open Sebastian can be found on the lawn together with what's left of the toilet roll, so it's up to us to make sure the door is closed.
He walks lovely on the lead and gets on well with other dogs as being socialised with other dogs is something that he enjoys. We go to dog training although I have been before with Rolo and Russell, It's good to go for extra support and for advice that someone else has experience of and for socialisation for the dog in a controlled environment.
Sebastian has hip dysplasia and is having weekly sessions currently on the treadmill in the water tank but soon to be in the pool. He settled in really well, can still be a bit shy around men but a real character that enjoys all the attention from people on our walks around the village, a true ladies man if I've everseen one!
There are so many dogs that need re-homing. Some are like Sebastian, they need patience, understanding and time to build that trust up so they can flourish into that loving loyal dog that Sebastian has become.
For a dog that used to struggle to come into the lounge who now lays in his bed on his back all 4 feet in the air. He has come on a long way. A friend of mine said when he first met Sebastian and I told him he was a Lab rescue, "well he has fallen on his feet with you Barry".
I know things will get tougher with his hips as he gets older and we will be there for him and when I'm having a bad day I'm sure a nuzzle or a lick will be hey Dad I'm here.

Many thanks to Jane Hunt & LRSEC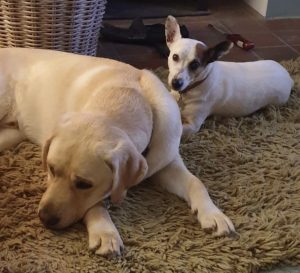 Make Mine a Pupicinio !
Make mine a Pupicino! By Di Binley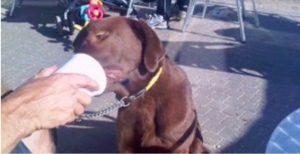 Ralph was matched to us by Jacky just before his first birthday.  He had spent some time in Kennels – with a slightly different name, whilst he waited for us and our elderly chocco, Baxter. He was a proper teenager when he arrived and loved everyone and everything … his favourite game was to put his head down and charge at us and then swerve at the last moment. He also has a very long body and tongue so counter- surfing when he was younger and more supple was a speciality!
We lost count of the number of wooden spoons he chewed up. He really was Ralph-the-Rascal. He grew up when he had his knee surgery (TPLO) and when his younger brother, Haribo, left us. Since then he has been enjoying a more steady pace. He loves having trips out or days with everyone at home.
He is partial to the froth off a coffee which has become known in our house as a Pupicino!
Bourbon & Bailey
Bourbon & Bailey by Julie Hammond
These two gorgeous brothers were re-homed by us in January . Their family had been relocated here from South Africa where they had been used to roaming free on acres of land.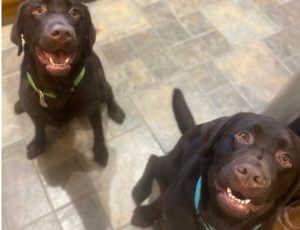 The property they had moved to in the U.K. was modest with a small garden and the boys became increasingly frustrated with their new surroundings. We were lucky enough to find them a wonderful home together with a three acre garden.
They settled almost straight away and are now enjoying the freedom they were used to since tiny pups.
Banjo
Banjo came into our rescue back in September 2020 .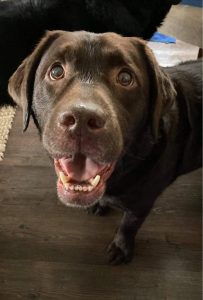 Sadly he had a knee injury which had been left untreated for a lot of years. He was very lame because of the injury and structurally his body was not in good shape because he had been compensating for the injury for so long.
First he had to have a castration operation and x-rays for his injured knee. He was given excellent care in my local kennels and he just loved all the fuss he got on a regular basis. To give him some company, I had him here with me and my dog Charlie as much as I could.
He then went for his knee operation and back to recover in the kennels. because he's such a lively, bouncy, fun boy we decided it would be the best place for him to recover, which it was. They did a super job with his after op care, second to none. I am very lucky to have excellent kennels near by. Anyway he had his recovery time and I was able to re-home him to a super new home where they were happy to work with his intense rehabilitation. (more…)