Upcoming Events
---
---
Dogs Party
News
---
London to Brighton Challenge 2018
On the 26/27th May 2018 over 2500 intrepid adventurers will walk, jog or run from Capital to Coast, a distance of 100 Kilometres. Now in it's seventh year, this challenge has become one of UK's greatest endurance events and this year IAN TAPLIN will be among the competitors.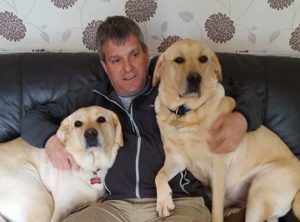 Ian and his wife have adopted two dogs from us, 3 year old Dexter in March 2016, and 5 year old Daisy the following November.
Ian enjoys walking and has already done several 100km walks to raise money for Alzheimer's. He has now decided to put his walking boots back on again for LRSEC.
You can show your support for this superb effort by donating on Ian's page at…
https://www.justgiving.com/fundraising/ian-taplin7
Thank you Ian.  We'll all be willing you on…
---
Give as you live
2017 has arrived and you can help support our charity by registering with Give As You Live. It costs you absolutely nothing but we get money by you shopping at top retailers like Next, House of Fraser and Debenhams etc for your gifts via Give as you Live. Please look here for full details.
Thank you.
Labrador Rescue South East & Central Blog
---
Chairmans New Year Message
Chairmans New Year Message
I hope you are managing to keep your New Year resolutions? Are you exercising more, drinking less, eating less or maybe looking for another Labrador? Whatever your resolution the New Year brings with it a tendency to look back as well as forward and as a charity whilst we can look back proudly on 2017 and the many dogs we helped but we are also looking forward to what we can achieve in 2018 to help even more.
2018 has already been busy and I thought I would give you an idea of what the charity has been able to do thanks to your support. The wonderful team of regional co-ordinators and their deputies and helpers have much autonomy working within a set of guidelines that have been drawn up based on vast experience of rehoming but whenever help or advice is needed there is usually someone within the charity who has met the problem before. I have only rehomed one dog and whilst I am very proud that Scampi is living very happily in the house next door to the surgery in Winchester I also realise that this probably make me the least experienced re-homer and so I try my best to stick to veterinary problems.
Jess came to us with a history of Giardia and Campylobacter infections causing diarrhoea, Arlo with chondro-dysplastic dwarfism which causes the legs to be shortened, Mr Buttons wouldn't stop drinking and Horace had a funny turn whilst out on a walk but has been fine ever since. Jimmy may need xrays and Archie has had so many issues with bladder stones he needed a special operation called an urethrostomy to make a new opening to allow him to urinate. Yogi has been drooling possibly as a result of the medication for his enteritis and all that was just since Christmas.
Mabel has cataracts, she is a diabetic and cataracts are a common issue even in dogs like Mabel where the diabetes is well controlled, she has been to see a specialist in Hythe near Southampton who can remove the cataracts and even put in a new lens so she will be able to read the paper again, I will be sure to keep you informed about her progress
Dottie has mega-oesophagus which means she cannot swallow her food properly and must rely on gravity to move the food down her oesophagus, she comes into the surgery every week for a check- up as she is quite susceptible to pneumonia from aspirating food or vomit into her lungs. Dottie is a great favourite of the nurses and receptionists who have got to know her well, her future is a little uncertain but at the moment she is thriving and enjoying her life and even has a special chair to sit in when she eats to try and keep her in a good position for the food to travel down to her stomach.
We will always do whatever is possible to help them, thanks to your continued support.
Richard