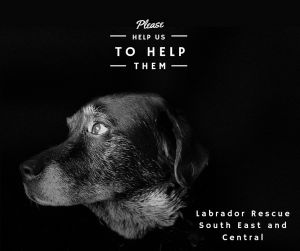 Help us save them from the hands of criminal gangs!
Puppy farms and dog theft are frequently reported and sadly continue to grow at an alarming rate.
We at Labrador Rescue South East and Central are anxious to alert people to the dangers of advertising, rehoming or even selling your dog over the internet.  Professional criminals, previously involved in serious crime such as drug trafficking, have turned their hand to dog trading; and they are at large.  By rehoming your dog without the benefit of proper checks and assessments they could fall into the hands of these criminals, and so propel the growth of this hideous market.
Labrador Rescue South East and Central (LRSEC) is a UK based registered charity (charity no: 1059122) that has cared for and rehomed Labradors and first crosses since 1996.  We are part of a countrywide network of specialist breed rescues.
Our fear is now that most of the lockdown restrictions have lifted and the country is getting back out to work, an increased number of 'lockdown-dogs' may be looking for new homes.  By increasing awareness, we hope to save as many of these dogs as possible from the hands of criminal traders and ensure they are safely rehomed.
At LRSEC, each dog that requires a new home is professionally assessed and profiled to ensure their characteristics are a good match for their new owners.  Equally the new owners are vetted to ensure a match and that they can offer a safe and secure environment for the dog and that the family make up (children, other dogs, cats etc.) suits the dog's character and temperament.  To minimise stress, each dog is collected and taken directly to its new home where possible. If a dog needs interim care and careful assessment, we use one of our excellent foster homes or kennels.  We keep in contact with the dog's new owners with regular visits to ensure the pairing is a success.  We can also keep in contact with the previous owner, if requested and possible.  Should the new home not work out, we will always take a dog back, no matter how long after the initial adoption, and find it a new home.  We are in the fortunate position that if necessary, we offer on-going veterinary support for dogs with pre-existing conditions.
We are dedicated to the welfare of Labrador Retrievers who are consistently one of the most popular breeds in the UK.  All of our funds and efforts are dedicated to finding happy and loving "Forever Homes" for dogs in need.
Please spread the word by liking, sharing and re-posting this message, and help more dogs find the loving forever home they deserve.
Your support is very much appreciated.
Richard Best BVetMed MRCVS  
Chairman