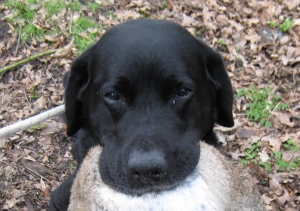 Frankie came to us as a foster dog when he was 11. My husband said he could spend his last days with us in front of the fire. What a surprise I did not believe his age as he ran off all the time and had endless amounts of energy. Luckily we are an active family and I work in forestry so he was able to come with me to the office and on site visits.
We could walk for 2 to 3 hours and he had no problem.
We live on an island and everybody knows him and admires his strength and character.
Not to say he is very well behaved but has bags of love to give, and due to his behaviour I have taken up running, so I can thank him for keeping me fit.
Well it is his 15th birthday today and after a small scare last week he is as good as ever. Keen to go out at any opportunity, keen for any attention and with only a little bit of grey looks as young as ever.
Frankie has definitely bought something to the family, companion to our chocolate lab Hazel, admirer of our cat Monty and fitness to the children and us.
Never give up on an Old Labrador they may surprise you. Frankie certainly did and is having the time of his life, Naughty boy!
Update on Frankie:
Sorry to say Frankie passed away on Monday after a very short illness. He had had a fantastic life and was spirited to the end. We sorely miss him but would not have been without him and glad we could offer him a good home for as it turned out his final 4 years. Never forgotten. Lindsey, David, Madison and Charlotte. Oh and Hazel and Monty