by Alan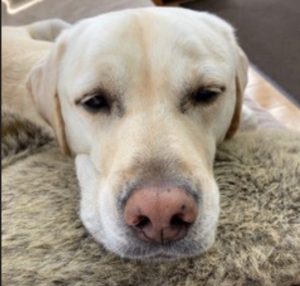 We lost our beautiful black Labrador Hattie after spending a wonderful 14 years together. We had had her since she was a 14 week old puppy and, from the outset, we invested time and effort in making sure she was as well-trained as we could possibly make her. With weekly training from almost the first week we bought her she became a fabulous companion. She even had incredible road sense. We could take her for a walk through our hometown of Matlock completely off the lead. She would stop at every kerb and sitg waiting for us to arrive to receive the word of command 'walk on'. An incredible dog.At the age of 14 her back legs gave up on her and we had to take the awful decision to end her life. She left us with an incredible back catalogue of wonderful memories. She had her favourite places and she knew when we were driving close to them. A number one place would be Chatsworth House. She even knew which cattle grid we had driven across before we reached its car park. Amazing.

Life without a dog took a different turn for us. I had retired from the Fire and Rescue Service only to discover, two years later, that I have advanced prostate cancer. The metastases associated with this cancer are in my spine my ribs my collarbone and my pelvis. On diagnosis my prognosis was 18 to 24 months. That was overs five years ago! This, coupled with my wife's battle with two rounds of sepsis and periods in intensive care and coronary care, led us to buy this wonderful property in the heart of the village in Derbyshire.
Since moving here we have completely embraced community life, getting involved with as many projects and initiatives as possible in the village.
Life without a dog was good, it gave us the freedom to know that we could go on long cycle rides for the entire day and not worry about any separation anxiety and leaving our dog at home alone. It also allowed us to attend some community events that we would otherwise would not have been able to, once again leaving a dog home alone for prolonged periods of time.
That period of freedom eventually gave way to a realisation that life with a dog is inevitably richer. So then I began a search. Since being diagnosed with this terminal disease I have had the good fortune of being able to walk my daughter down the aisle and hold not one but two grandchildren in my arms, something, that without the help of the medical team keeping me as healthy as possible for as long as possible, would not have been possible.
Having two grandchildren under the age of two led to a long search for a dog to give a forever home to. The majority of websites and organisations that offer rescue Labradors also have caveats that usually state a dog can be rehomed in a home with children over the age of 10 or 12. After more than a year of searching I came across this wonderful organisation. On its website was golden Labrador called Bam. The accompanying information was scant but the limited history available told us that he came from a family with two children under the age of two. We were therefore confident that he would be more than happy and indeed safe with both of our grandchildren.
I sent an email to LRSE&C via the Love Your Labrador website and explained our situation. We were quickly contacted by Jane who asked us some further questions about our background and situation and, although we live outside of their usual catchment area, she said she felt that we would suit this particular dog and that he would suit us.
We drove across to Sleaford, to the kennels where Bam was being kept, and met him for a short space of time in their paddock. That first meeting was not one that you would consider a complete success. He was completely disinterested in us, being completely engaged in searching the ground across the whole of the paddock. On that first occasion he barely made eye contact with us. We slipped a lead on him and took him for a short walk in the fields next door to the kennels, or should I say he took us for a drag. I did manage to get him to sit, and he took a treat instantly from my hand. Some little progress we thought.
We stayed nearby in a lovely hotel in Woodhall Spa and discussed our options over dinner. Both of us were really taken with Bam and we decided to bite the bullet and bring him home.
The next day we returned to the kennel and had a second battle to put him into a harness so we could secure him in the rear of our car for the journey home. The journey home was around an hour and a half, and for the first 45 minutes for Bam went nuts! It was plain that he was under immense stress, completely unsure as to what was about to happen to him. By the time we got home our car was about 3 feet deep in Labrador fur, and poor old Bam stank.
That evening I took Bam for his first village walk. It was raining. As cars drove down our hill the hiss from the tyres in the rain panicked Bam and he did his level best to throw himself, barking, at every passing car. It was terrifying.
That night we made it as comfortable as possible for him in the kitchen and stayed up until around midnight trying to make him feel at home. We both lay in bed for a least an hour without speaking to one another expecting howling and scratching from him. This did not happen. The next day when we woke he was calm and comfortable in the kitchen, but he still stank.
Off we went to our first floor shower and it was then I discovered just how much he loves water. For the next 20 minutes I had a battle and immense fun working his fur into an incredible lather and then rinsing him to bring him up smelly sweet. Two baths later and he was smelling sweeter.
It quickly became apparent that poor old Bam, who by this time had been rechristened Sam, had and has issues. He has now been with us for nine months and in that time we discovered that he has a particular issue with people dressed in black. This becomes very apparent when we take him out to a restaurant or pub. Any of the serving staff wearing black, delivering food or clearing plates, coming towards our table, Sam will bark profusely, bare his teeth and lunge for the head of the waiter or waitress. It was terrifying. We have put a great deal of work into building Sam's confidence around such people and now that we are fully aware of this issue, we warn staff about it and his reactions are becoming less and less, the more he is exposed.
It was also readily apparent that Sam had never been properly socialised, either with people or dogs. This has slowly changed over the last nine months, and in the last fortnight, following a great deal of training and support from the local dog training school called k9konnect I now have the confidence to allow him off the lead and to run and play with other dogs.
Sam has attended training in obedience and recall and we both enjoyed the experience immensely. Perhaps the most important piece of advice I got from the owner of the training school as we finished our last recall session was and is, you may have finished your training here with us but work with the dog never ends. You also need to remember that however much training you put into your dog and work with your dog they are still a dog and they will always let you down at some point in the future, they are just a dog.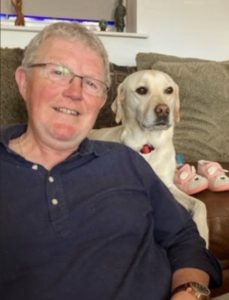 Ladies and gentlemen, if you are contemplating taking on a dog, whether it be from a pup or from a rescue organisation, always remember that it's going to mean a lot of hard work most of it from you.
Sam is now a wonderful addition to our family and we can't wait to explore the country with him. Thank you LRSE&C we couldn't have done it without you!