Barney by Jacky Garvey & Barbara Wilkinson.
 We were asked in February of this year if we could help find a home for this lovely boy, due to a member of the family being allergic to him.
He is only 4 years old and already has 2 new hips and operations on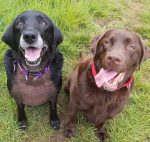 both elbows. This meant that for nearly all his life his exercise has been limited and he wasn't able charge around and play boisterously like a normal young Labrador.
As a result he suffered with a lack of socialisation.
We put him onto the website in
search for the perfect home.
We had many enquiries.
One of the conditions was someone with a strong arm, as Barney
is a big strong dog! A lovely lady called Janet enquired about him, I must admit I did initially have concerns if she would be strong enough to walk him.  Luckily Janet is a good friend of one of our helpers, they met through Labradors! I was assured that Janet would be the perfect home and would do whatever is necessary.
Then lockdown happened in March, and we were unable to progress his rehoming. Janet was so keen and frequently phoned to see if there was any news on when she would be able to welcome this lovely boy into her home.
Several months went by before we were finally able to collect Barney. Wendy  kindly drove quite a distance to pick him up and deliver him straight to Janet, who was absolutely over the moon!
There have been a few bumps along the way with Barney's lack of socialisation when meeting other dogs, but Janet has persevered, and after seeking advice from a behaviourist the Charity uses, Janet and Barney have come on leaps and bounds, walks are much more pleasurable. Barney has a new best friend in Ziggy who is Wendy's dog and is one of the Charity's supported dogs.
Janet has been taking Barney to Hydrotherapy regularly to help his joints, and he loves it! As well as loosing at least 6 kilos his legs and spine are now aligned, and he is looking fab. He is such a loved member of the family.
Barney has certainly landed on his paws! Thank you so much Janet for your love and dedication.