Teddy by Jo
Sadly, during April 2020, we lost our beloved dog – she was 12 years old and very much part of our family. Our children had grown up with her and never lived without a dog in the house and the loss during a national lockdown really was very difficult for us all.
We quickly knew we wanted another dog and although puppies are exciting and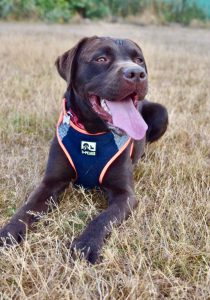 full of fun the pleasure we got as a family from having a dog was also in the later years – long walks, beach trips etc. So, we began to look into rescuing a dog and quickly stumbled across Labrador Rescue SE & Central. We hoped we could help a dog in need find a new loving home. We completed all the relevant paperwork and eventually spoke withJulie who had identified Teddy as a possible addition to our home.
A home visit was quickly organised, and Julie and Sue were very open, honest and thorough in their assessment of our home, of Teddy and of the responsibility we were taking on. He was described as 'lively', but a beautiful family dog and we can now confirm this is an entirely accurate description!
Teddy joined us in August and has quickly settled. Sue and Julie talked about the timescale for him settling and their description of an initial honeymoon period was so accurate!
He behaved impeccably, keeping off the furniture and downstairs! However, when he'd found his feet (about 3 weeks in) he pushed the boundaries a little – being 'discovered' on the sofa and halfway up the stairs! He has, however, continued to learn and by month 3 you could see that he really was truly settled.
The boys returned to school and he knew they were 'missing', he greets each one of us with a sensible level of excitement and pulls down our road at the end of a walk knowing exactly where he lives! He spent a day at 'Nanny's' house when we went out for the day and was very excited to see us all return. He's settled in his own bed (on the floor!) and snores away throughout the day and night.
His one training need was around his overwhelming urge to socialise with dogs and people! Having always been walked on the lead. He's been to a recall lesson; we've used the tricks and as of this week he has shown fabulous recall progress – we are so proud!
So, we cannot recommend LRSE&C highly enough – they helped us fill the hole in our family with the most wonderful, family companion. They did this with just the right amount of advice, care and assessment to make sure it was right for us all.
Thank you so much, we are very grateful.