This story began at the beginning of July. On one of our caravanning weekends my family met a lovely couple and their two gorgeous Labradors.
Their boys came over to greet our yellow Labrador Ollie and a conversation about what a fabulous breed the Labrador retriever was.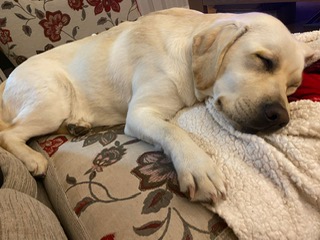 The lady introduced herself as Jane, her husband Robert, and her dogs Charlie and Jack . Jane spoke about her boys being rescue dogs and told me all about their youngest dog Jack's tough start.
I told Jane that we had been looking to get a playmate for Ollie just as the first Covid lockdown struck but that there was no way we could justify the inflated breeders' prices.
We just wanted another dog to share our lives with. We had totally lost hope that we would ever be able to have another Labrador. Jane told us how she worked for Labrador Rescue South East & Central and that they had Labrador dogs of all ages that came to them to be rehomed. Suddenly I began to feel bubbles of excitement; was there a possibility that we too could rehome a lovely lab ?
I completed the online form straight away and eagerly waited to hear back. The next week we had a home check and we were approved for rehoming!
Jane contacted me to let me know of 2 gorgeous girls (sisters) aged 13 months that were in need of a new homes . We were very fortunate that we got to meet both girls and take our boy Ollie along to meet them too. It was so difficult for us to try and choose between the 2 girls!! We put our trust in Jane and asked her to decide which she thought would be the best fit for our family as we would have been equally blessed to have had either of them.
We cannot believe how lucky we have been to find her . Training with Bea is going well we are currently working on her recall off lead , but she's never far from my side whether at home or on our walks. Thank you Jane and Labrador Rescue South East & Central for bringing Beatrix into our lives .
Within a couple of days Jane had got back to us with the exciting news of which dog would be coming to live with us . Our beautiful girl Beatrix joined our family in August. We are so fortunate to have her in our lives , although a little shy at first; with Ollie to show her the way she has become such a confident little character who loves her daily walks on the beach, in the park or paddling in the local dog swimming pool.
The Rea family x