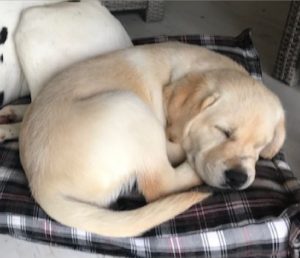 Willow came into our family just after we'd lost our very special diabetic black Labrador Chester, in April at the age of 13 and a half.
Our local coordinator Jane told me about a 9 week old Yellow Labrador rescue who was born a swimmer!! Which meant she was wobbly on all 4 legs!
Jane showed me a picture of this adorable yellow pup, typical Labrador, sad eyes and I just fell for her even naming her before I met her.
We were worried about how our 6 year old Dalmatian Spring would be with her as she is not very sociable but, within 5 mins they were playing! Willow is such a confident pup. Spring will still put her in her place when necessary but I think she has quite liked taking on this role. Willow follows her everywhere.
She is adored by all the family as well as by our friends. A typical Labrador, she gets into mischief and then looks so loving giving you those puppy dog eyes.
We have done puppy training and she has also been swimming in a hydro pool!
She loves it all and takes everything in her stride. I own horses so the dogs come up with me to see them. Willow touches noses with them and likes helping with the mucking out! Yuk!!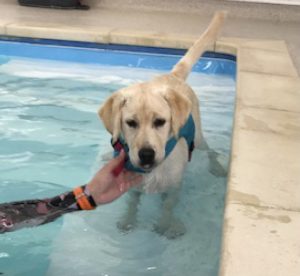 I'm sure Chester is still looking over us with Willow as she has so many of his traits.
We are soon starting Intermediate training which I'm looking forward to just to carry it all on with her.
The social side of training is so good for her. We may then have a go at agility.
There is certainly nothing wrong with Willow now she has nice strong legs we love her to bits…
She has settled so well onto our family.
Steve & Jodi