Bentley by John Ward
Bentley came to us from Labrador Rescue 3 years ago at the age of 3. He was very, very lively when he first came but settled well as the weeks went on although he does still have his moments of rampage.
He has been, and continues to be an absolute joy to us. He is now age 6 and a wonderful dog.
During the first Lockdown, I took him to a different location each day and posted a picture on Facebook where he has built up quite a fan club.
Here he is at Cromer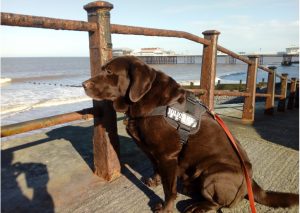 When I was Chairman of Norfolk County Council on "Take your Dog to Work Day" I took him to my office at County Hall where he caused quite a stir and even had his picture in the local paper.
Thank you, Labrador Rescue SE & Central, for giving us this wonderful dog (and his predecessor Hugo, a chocolate Labrador who lived happily with us until he sadly passed away aged over 15).
Long may you continue your good, and important, work.