Gus by Carol 
I can't believe it's nearly 6 years since I travelled to Toddington Services to pick up Gus from Fiona Miller.
I had lost my beloved Cash and my home was too empty without a four- legged friend. Gus was a very sweet boy and very good in the car.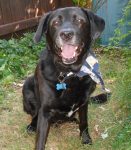 However it soon became evident he was very nervous of noises. He had apparently lived in a very quiet area. After firework night he would not leave the house for nearly 2 days. What an amazing bladder he has! After some coaxing he began to regain his confidence and slowly ventured out. So I started doing some positive training around noises.
We followed the bin men around on a Friday for a few weeks.  (I did tell them what I was doing in case they thought they had a stalker)  and used tasty treats to reward Gus when he was calm around noises. He soon got used to the traffic etc. and has improved so much over the years with thunder storms but still can get anxious around fireworks. I have tried various things including a thunder shirt, valerian and skullcap, other herbal remedies, plug ins, crate training. Over the last couple of years I have found the best thing is some calming tablets and to keep him on a short lead and to use treats in a find it game!
Gus has been on some fund raising events with me for LRSEC and also helped with assessing some foster dogs. I think he particularly likes this as he is very sociable and loves meeting new people and dogs. He even likes cats! Gus loves his walks although as he is nearly 13 and is experiencing some stiffness in his back legs, the walks are a bit shorter but he loves to go out and see his many friends and have a sniff about. I am so grateful to Fiona Miller and Jo Sorrell for finding this very sweet boy to share my life with.