Make mine a Pupicino! By Di Binley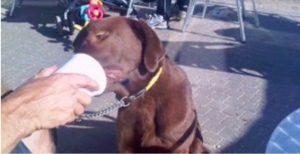 Ralph was matched to us by Jacky just before his first birthday.
 He had spent some time in Kennels – with a slightly different name, whilst he waited for us and our elderly chocco, Baxter. He was a proper teenager when he arrived and loved everyone and everything … his favourite game was to put his head down and charge at us and then swerve at the last moment. He also has a very long body and tongue so counter- surfing when he was younger and more supple was a speciality!
We lost count of the number of wooden spoons he chewed up. He really was Ralph-the-Rascal. He grew up when he had his knee surgery (TPLO) and when his younger brother, Haribo, left us. Since then he has been enjoying a more steady pace. He loves having trips out or days with everyone at home.
He is partial to the froth off a coffee which has become known in our house as a Pupicino!