Hi, my name is Barry and I would like to tell you about Sebastian who I have recently re-homed from LRSEC.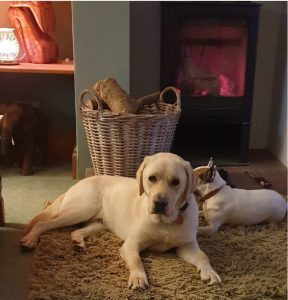 After losing my Labrador Rolo who I had for 10 years and who was also adopted from LRSEC through Janet Andrews, I contacted my new area coordinator Jane Hunt who I spoke to on the phone and completed an online form.
A few days later Jane phoned with the good news that there was a dog available. I had put on the form that I didn't mind a dog that needed training, patience and understanding as my previous friend Rolo needed the same.
Jane was particularly anxious about Sebastian as he was 18 months old and had only known a life in kennels and he was totally confused and troubled as to why he was there.
Jane sent us a picture and my wife and I together with our Jack Russell went to meet him at the temporary kennels. The kennel maid brought him out to meet us in the paddock, he was a big bundle of yellow dog pulling on the lead really excited to be in the open.
He was a bit shy and nervous but I could see by the way he was with our Jack Russell who is called Russell that he had a lovely temperament. After walking round the paddock with Sebastian and Russell we adopted him and took him home.
Jane had already done the home check although nothing had changed since we had adopted Rolo.

Once home it was a learning curve for us and him, For us he still had reservations on trust so would lie on the patio outside with the doors open and would occasionally pop his head into the lounge, this quickly progressed to laying in the Kitchen looking into the lounge followed by eventually trusting us enough to lay in the lounge but seemingly with one eye open as if we moved, he did too, to the safety of the garden.
Thankfully this was in the summer. We bought him lots of toys to play with to stop the boredom that he felt while in the kennels. While in the kennels he used to trash his water bowl, he also did this at home but with the help of the toys, Russell as a partner in crime and the stimulation from us this soon stopped.
We had to set some rules of our own and one of those was he had to sit and wait before being allowed to eat his food and as Labs are food orientated this was an easy goal to reach. If the downstairs toilet door is left open Sebastian can be found on the lawn together with what's left of the toilet roll, so it's up to us to make sure the door is closed.
He walks lovely on the lead and gets on well with other dogs as being socialised with other dogs is something that he enjoys. We go to dog training although I have been before with Rolo and Russell, It's good to go for extra support and for advice that someone else has experience of and for socialisation for the dog in a controlled environment.
Sebastian has hip dysplasia and is having weekly sessions currently on the treadmill in the water tank but soon to be in the pool. He settled in really well, can still be a bit shy around men but a real character that enjoys all the attention from people on our walks around the village, a true ladies man if I've everseen one!
There are so many dogs that need re-homing. Some are like Sebastian, they need patience, understanding and time to build that trust up so they can flourish into that loving loyal dog that Sebastian has become.
For a dog that used to struggle to come into the lounge who now lays in his bed on his back all 4 feet in the air. He has come on a long way. A friend of mine said when he first met Sebastian and I told him he was a Lab rescue, "well he has fallen on his feet with you Barry".
I know things will get tougher with his hips as he gets older and we will be there for him and when I'm having a bad day I'm sure a nuzzle or a lick will be hey Dad I'm here.

Many thanks to Jane Hunt & LRSEC