Max & Duke
Update from Louise their new owner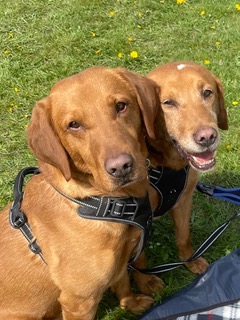 The first of February 2022 was a particularly special day for us as we were blessed with these two beautiful boys, Max & Duke.
We had seen them on the website for Labrador Rescue SE&C & fell in love
immediately but we didn't think we had a chance as they were out of our area but we both just kept looking.
Their eyes just were telling us they had so much love to give & they have done just that since being with us, as I am sure they have done in their previous home.
We then decided we should contact to see if there was any chance we could try & adopt. Everyone we have spoken to have been amazing & helped us give Max & Duke their forever home & we can't thank them enough.
Our first contact was Jane who was amazing & put everything in place for a home check with Jackie & then our meet up with the boys with Dawn, which was pretty emotional, seeing them & being able to bring them home.
They have from day 1 brought us, & will continue to bring us, so much joy. They are 2 amazing boys, full of love & mischief, obviously!
Please don't be put off by a dog who has been living in a kennel previously, as they have both adapted well to being in a home environment. We have had no accidents at all, apart from one cocked leg on the first night by our elderly boy Max, which, to be honest, is nothing to even mention in the case of a working dog who has not lived in a house for any of his 11 years!
We can't thank everyone enough for helping us to have these boys as a part of our family as they are so very special & loved so very much. Thank you!
"They have brought us so much joy"