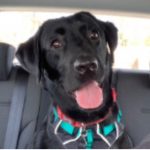 In March 2020, we escaped our one bed flat in South-East London and moved in with family in Norfolk for what we thought would be a two-week lockdown. We spent time enjoying the countryside and caring for the senior four-legged family member, Zack (also fromLRSE&C).
Zack was a very-special dog to us both and he taught us so much about ourselves, the importance of patience and the power of love.
Although he was an old man, he was full of life and released his inner puppy every time he found Alice in the kitchen baking dog friendly treats, especially his favourite cheese dinosaur biscuits. Although he did not make it to our wedding in August 2021, he featured on our wedding cake, and we feel this was the perfect place for him to be! Millie (also from LRSE&C) was an honorary Bridesmaid and took on the role of ring bearer.
After nine months of restrictions and lockdowns in 2020, we decided not to go back to London and instead bought our first home (with a garden suitable for doggy playtimes) in Cambridgeshire. After Alexander's lifetime experience of family dogs and our joint experience of caring for Zack and more recently Millie, we knew our home would not be complete without our own four-legged family member, so once we had settled into our home we started to apply for dogs on the LRSE&C website.
In March 2022, we got the call we had been waiting for and started the process of rehoming Teddy, our now 11 month old black Labrador.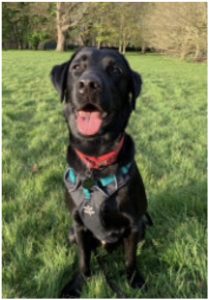 Having a dog in our home, especially such a young and energetic dog, was definitely a lifestyle change for us, but he is settling into our home and into his new routine quickly. He still has his cheeky monkey moments, but with regular walks, playtime, training and the all-important cuddles, he is becoming much calmer and a very happy boy indeed. Teddy loves to explore the countryside and he looks longingly at the river whenever we pass on our walks. He is desperate to explore off-lead and we hope that he will be able to do this soon, once we are more confident in his recall. Teddy makes friends with anyone he finds, from butterflies, to other dogs and people (especially people with treats in their pockets!). He is extremely sociable and we look forward to taking him to group classes and letting him off-lead on walks with doggy friends once we have mastered his basic training. Every day, Teddy's confidence grows and as he settles more and more, we look forward to seeing more of his playful, cheeky and loving personality coming though.
Thank you Jane and Jacky for finding us our best friend and for trusting us to provide the home and life that Teddy deserves, full of love, patience, treats and lots of outdoor exploration sessions!
Alice & Alexander