We love to hear the stories of the wonderful dogs we rehome. Here is Rusty's story, which the Sibley family have kindly given us permission to share.…….

We adopted Rusty from LRSEC when he was 8 months old as a companion for our other Lab Harvey, and in no time at all the pair were inseparable. Rusty was described as one of the most destructive dogs LRSEC had ever rescued having nearly demolished his previous owner's home. Despite knowing this, having met him we guessed that this was probably down to boredom and a lack of exercise. He soon settled into life with us, loving his long runs in the woods and parklands with his best friend Harvey, and cuddles on the sofa in the evening. He was cheeky, loving and the most ingenious food thief that we've ever met, but we loved him unconditionally and that love was returned tenfold and more.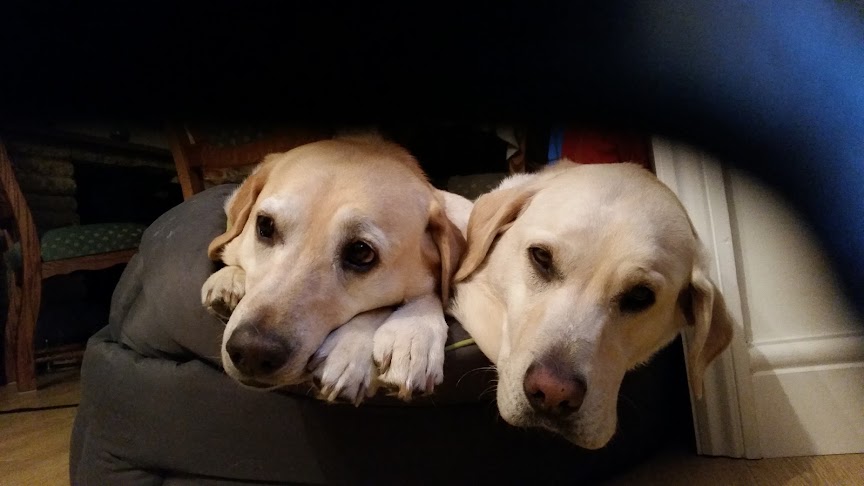 Sadly, we lost Harvey shortly before lockdown and there's no doubt that Rusty missed him terribly. However, lockdown meant that the whole family were there 24/7 to make sure that Rusty was never alone and fussed unmercifully. Towards the end arthritis in his hips started to slow him up but with a good combination of meds he still enjoyed his walks, in comfort, albeit at a more sedate pace. He was two months shy of his 13th birthday when a routine blood test revealed he had inoperable Cancer, and on 10th December 2021 we had no option but to say goodbye. Heartbroken doesn't do justice to how we felt and still do, but the purpose of our message is to thank LRSEC for giving us the chance to adopt one of the most remarkable Dogs we have ever known. Not only did he get a loving Forever Home but he changed and enriched all our lives in so many positive ways. The Sibley Family
Everyone at LRSEC understands that pain and sends our sincere condolences to the Sibleys and anyone else suffering the same. Sadly it's the price we have to pay for all the love and happiness dogs bring to our lives, which is why we carry on finding forever loving homes for all the wonderful dogs that come into our care; to share the good times over and over again.