Theo came to me back in 2012 having recently had a plate and 13 pins fitted in his left femur to fix a break that we believe was caused by previous owners. He did well post surgery and I took him to many months of hydrotherapy to help him rebuild his hind limb muscle, and in doing so, found a whole new career for myself! However, I was aware that an injury in one limb can often have an impact on other limbs, often the diagonal one so this is something I have always kept an eye on.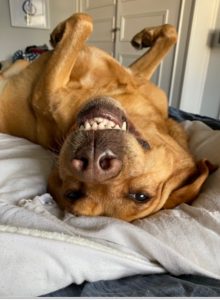 In 2017 I noticed that Theo would occasionally appear a bit lame on his right fore but at the time, I was lucky to have a friend who decided to become a Galen Myotherapist and asked if she could use Theo as her 'case study dog' whilst she completed her studies. This fortnightly treatment really helped him keep this in check and be more comfortable. Galen Myotherapy (www.galenmyotherapy.co.uk) is a branch of massage therapy which promotes health and treats chronic muscular pain in dogs through unique massage techniques and exercise management. Theo revelled in his treatments and I could see a huge difference in him the day after a session. We continued with this plus diet management and hydrotherapy with mum for several years as the limp was sporadic and managed.
Unsurprisingly the limp became more and more frequent and started to bounce between both fore limbs. I was working my way through a variety of pain management options with my primary care vet for about 18 months and trying to manage the condition which I suspected was Elbow Dysplasia but i also was fully aware of the minimal treatment options for this condition.

Theo seemed more and more uncomfortable and his walks were reduced to 15 mins at a time with no running, chasing (squirrels) and generally I felt his quality of life was not what I would hope for an 8 yr old lab.
So on 24th June 2020, Theo underwent surgery with Anderson Moores Veterinary Specialists. He was diagnosed with Elbow Dysplasia, chronic arthritis and in the x-rays we could see he has no cartilage at all in his elbow joints so he underwent an arthroscopy to remove the shards of bone that were floating about and causing him so much pain.
It was a relatively quick surgery with uncertain results. However, after 14 weeks of sleeping on the floor in my sitting room with the big ginge (no stairs) and a very robust weight loss and rehab programme.
I am pleased to say that Theo is now enjoying weekly hydrotherapy
once again and is back up to his hourly walks in the forests and parks of leafy Surrey! He is allowed up the stairs once a day for bedtime and he has a beautiful homemade ramp to get onto mum's bed!
He will be on pain meds for life but the quality of life he has is once again restored and he can continue being spoiled and adored!