Hi….. I'm Suki
I'm 5 months old and it's been quite a 5 months! I'm now at my 4th home. My second family did not work out and Jacky sent me to stay with Margot and Neil (which was amazing fun) while she looked for a new family. Now she found it and I'm here!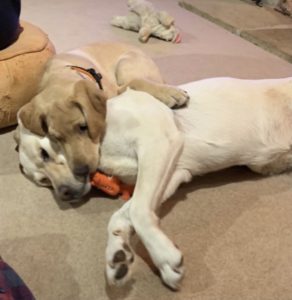 There's me, two other 4-legs (Bella and Digit) and four 2-legs (David, Heather, Ben and Jessie). I've been here a month now and my two new friends seemed a bit confused at first. I now know that they often have other 4-legged visitors but they don't stay more than a day or two. It took them a while to realise I'm not a visitor!

Bella is 7 and looks like me, but is much bigger. Jacky also found this place for her and Bella says it's alright! Bella is really funny and we spend a lot of time playing and shredding toys all over the house making it look like it's snowed!
Digit is much older (14) and can be a little grumpy, she came from Hearing Dogs for Deaf People. She shouts at me
if I'm too playful or try and get her to join in, but she's always up for a snuggle in the evenings.
I live on a farm now and there is lots of space. I'm very lucky to be able to go for walks without even having to be on lead or get into the noisy box on wheels. There are lots of lovely tracks and long grass. I do chase Digit through the long grass but she's more interested in looking for rabbits and mice.
The 2-legs can be quite strict and I've learnt that I need to wait for them to go through a gate before me! I learnt that from Bella and Digit, they know the rules.
Ben (16) and Jessie (14) love sitting on the floor with me and are always ready to play and tickle me. I always look forward to them coming back at the end of the day when they have been out.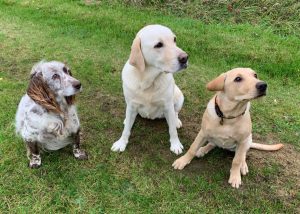 Jessie has two rabbits and I love looking at them in their run. Ben has a hamster and I think I can see her but I can definitely hear her running round and round a wheel at night.
There are two other 4-legs but they are not dogs. They are Shetland ponies called Pongo and Martha. At first, I thought they looked fluffly and friendly but Pongo chased me across the field and Bella taught me to keep my distance and told me I would not want to be caught by them (she knows!).
Being able to lie in front of the fire with my two new friends is just the best, I think the whole family must really love me because they keep cuddling me and keep laughing at me when I do funny things.
I can't say thank you enough to Jacky at Labrador Rescue. I hope you can see from the pictures how happy I am!